Exhibit—Now on line at UNCA Ramsey Library Special Collections.
Click here to see the exhibit
The Family Store: A History of Jewish Businesses, 1880-1990, is a 12-panel exhibit that was displayed in a variety of locations in downtown Asheville in the fall of 2006 and spring 2007.
It spotlights the more than 400 Jewish businesses found in the main core of downtown Asheville (which is NOT the entire downtown of today). The exhibit showcases the era when all downtowns were destinations of purpose, providing all items necessary for daily life, from groceries to clothing. It was a time when downtown Asheville was the shopping hub of Western North Carolina.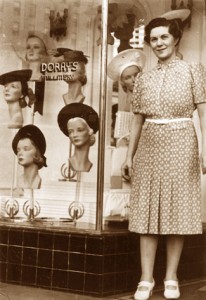 The Jewish community had made a variety of contributions to western North Carolina. Some were anonymous, some not. Some were monetary and some were donations of time and resources highlighting the strong feeling of social responsibility regardless of race or religion. These contributions were disproportionate to the small numbers of Jews in the local population. Some examples include the many buildings at UNC-Asheville—Zageir Hall, Lipinsky Auditorium, Robinson Hall, Karpen Hall, Mills Residence Hall, a shoe giveaway at Pollack's Shoe Store; bringing nutritionists into Vanderbilt Shirt Company to educate the workers to improve their health; and the Harry and Shirley Blomberg Surgery Wing at St Joseph Hospital. The Family Store gives you a sampling of these stories.
."It is a lively, dynamic and infinitely interesting, yet largely invisible past." Pat Beaver, Director, Center for Appalachian Studies, Appalachian State University
"It is not just the Jew's history, it is our history." Pam Nickless, Professor of Economics, UNC-Asheville
This project will help restore our civic memory of a significant element of Asheville's past, and open people's eyes to the Jewish experience in the South and in the Mountains." Rich Mathews, Independent Scholar.