This exhibit is comprised of 12 fabric panels that are 3 feet wide by 5 feet tall. They roll up around their top and bottom aluminum hardware bars and pack into separate zippered canvas bags with straps.
The aluminum stands are height-adjustable and they are easily taken apart (one bottom support with two telescoping side supports) to pack into the canvas bag with its panel and clips.
Accompanying hardware clips (four per panel) attach to the vertical supports to hold the fabric panel taut.
The panels can also be hung (with accompanying hanging hardware) rather than displayed on support stands.
If hung, the space needed is approximately 36 feet (12 panels that are 3 feet wide). Since the panels are in no particular order, however, they could be hung in different configurations to accommodate the panels (for example in two 18 foot rows, in three 12 foot rows or in four 9 foot rows).
If displayed on stands, they take up slightly more room than 3 feet wide (3 feet, 4 inches). They can be displayed in an angled format, which would take up far less room than if displayed un-angled (straight across).
Weight is approximately 3 pounds per canvas bag. Total weight for 12 panels is 36 pounds.
Ideas for enhancing The Family Store Exhibit in your area.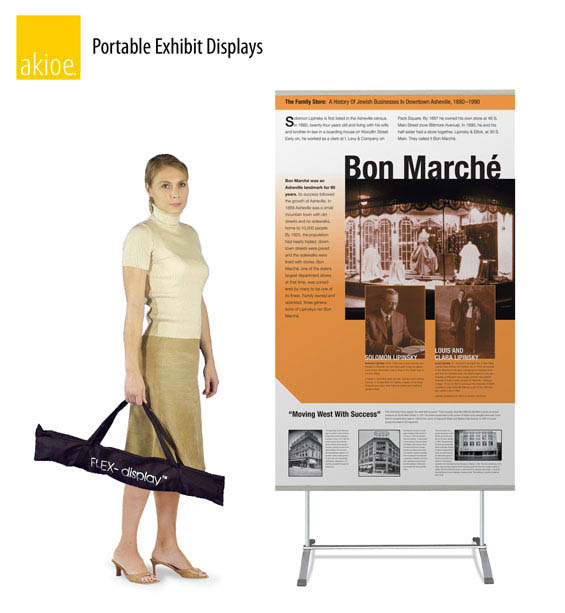 1. Make a panel or exhibit case about your city's Jewish business history
2. Bring in Jewish business owners to talk about the Jewish businesses in your city.
3. Have kids interview Jewish business owners in your city.
4. Cross cultures and apply the info shown here to your city's new immigrants.
5. Bring in members of the immigrant community to talk about their businesses and business challenges.
6. Have kids interview members of the immigrant business community in your city and compare/contrast with the information in The Family Store.